On today's episode of Me Myself and I Radio Anthony Hayes is joined by guest, Marie Lanza.
Marie Lanza is the author of FRACTURED: OUTBREAK ZOM-813 and FRACTURED: THE OTHER SIDE. Lanza has also published an e-series titled The Colony. This episode comes at a perfect time in the month of October as the publishing house she represents Severed Press, specializes in zombies, kaiju, dinosaurs, sea monsters, and space marines.
PART ONE:
LISTEN NOW!
DOWNLOAD NOW!
iTunes | Stitcher | Spreaker | YouTube | iHeartRadio | SoundCloud
PART TWO:
LISTEN NOW!
DOWNLOAD NOW!
iTunes | Stitcher | Spreaker | YouTube | iHeartRadio | SoundCloud
LISTEN CLOSELY FOR "KEYWORDS" IN PART ONE AND TWO OF THIS INTERVIEW AS I WILL BE GIVING AWAY A SIGNED COPY OF MARIE'S NEW BOOK FRACTURED: THE OTHER SIDE. When you have both keywords the first listener to EMAIL [email protected] WINS!*
(*Contest participants must reside within the Continental United States. Contest ends October 31st 2016, 11:59pm est. Winner will be contacted via email.)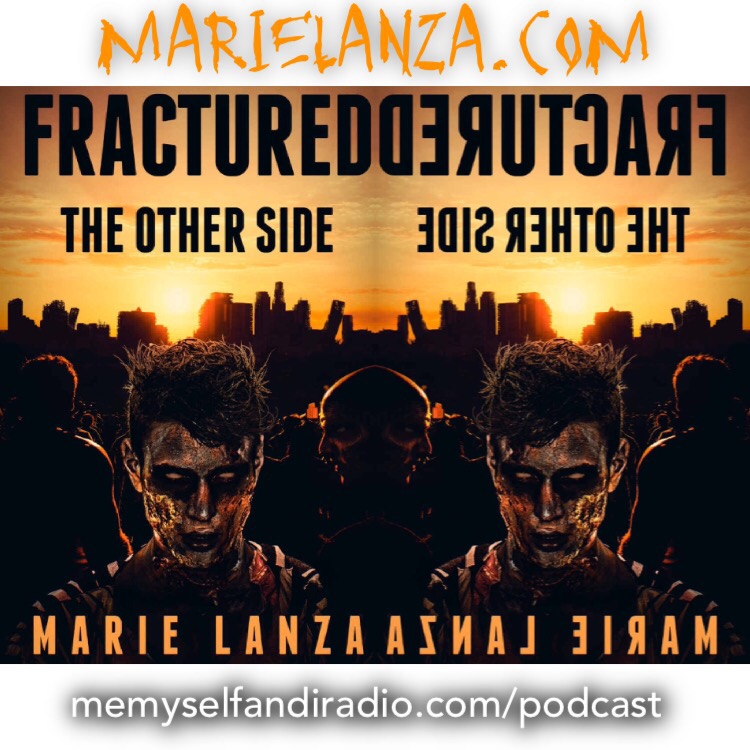 Not only is Marie a talented writer, and amazing mother, she also has had a very exciting career as a radio producer. Truth be told I am a huge fan of Marie and today is a conversation you won't want to miss!
I stumbled upon the creativity of my wonderful guest, author Marie Lanza just over a decade ago while listening to satellite radio. Nowadays, Marie can be found on her podcast "The DiRT" or in the pages of her chilling zombie book series.
Together we will discovery Marie's Me (Past), Myself (Present), and I (Future) Elements that have created the wonderful woman she is evolving to be everyday. We had such a great time chatting that this will be a two part episode. The second half being released on Halloween! At that time, I will be giving away a signed copy of FRACTURED: THE OTHER SIDE.
Guest Bio:
Marie Lanza is an author, radio producer and personality. Marie became part of the Sirius XM network in 2004 and left the network in February 2013. She could be heard in a variety of roles on various channels; as a producer, Marie was part of some of the most unforgettable moments in radio, has booked breaking news interviews, created segments and brought topics that have become infamous among audiences.
Currently, Marie can be heard on her radio show, The DiRT, available on iHeart Radio, Spreaker, and other various outlets. In 2013, Marie began her ongoing e-series The Colony. In 2014, she released her novel Fractured: Outbreak ZOM-813, and in 2016 part 2, Fractured: The Other Side. This series was picked up by the publishing house, Severed Press. She currently resides in Los Angeles, California with her husband and daughter.
Notable interview quotations:
"I was tired of letting my reality get in the way of things that I was passionate about."

"Don't let realities get in your way of  always following your dreams."

"They [kids] really put life into perspective of whats important."

"Take more opportunities."

"Keep learning."

"Boys suck."
LINKS:
www.MarieLanza.com
www.facebook.com/MarieLanzaBooks
www.twitter.com/Marie_Lanza
www.severedpress.com/authors/marie-lanza/
EPISODE MUSIC:
Show music introduction "Do It All For The Dream" provided with permission from Lovestruck Robot by Jace Magee. Please visit lovestruckrobot.com for more information or iTunes to download now.
Thank you for listening to Me Myself and I Radio Podcast with Anthony Hayes! Please subscribe on iTunes, leave a rating and review and tell a friend.
"Control the Controllable, Keep on Flowing, Just Be…"