On today's episode of Me Myself and I Radio Anthony Hayes is joined by guest Stephanie Calahan.
At first, I only knew of the Stephanie we know today; her 'Myself Element.' As I began to dig deeper and prepare for this show, I uncovered an amazing story of obstacles and victories. Like a warrior in the midst of battle, Stephanie's armor grew weak. As for her spirit, that remained strong and unbreakable. Listen in as we hear the Me (Past), Myself (Present), and I (Future) Elements of Stephanie Calahan – Business Vision Catalyst.
LISTEN NOW!
PART 1
PART 2
GUEST BIO:
Today's guest is a lady who has a path that is so similar to many of us, who are searching for a better way of living our lives. We are in a job that we dislike, and feel the ambition and drive to take control of our futures and go it alone. But what can it be like when you also have the burning passion to also help the world find a better way of living too, but you find that path that you created, is actually destroying you little by little. Your dreams and ambitions are actually the very things that kick you in the teeth and stop you in your tracks.
Well, our guest had been in corporate America and was used to hustling, working extremely hard everyday, and coming back for more again and again. It was what she did. And what she knew. But after taking the leap of faith and setting up her own coaching and consulting business, as well as serving her community and helping clients and friends find the passions and path in life, she realized that she had taken on too much.
Her body started shutting down. She had pushed herself to the limit of her personal endurance, and had hit a crossroads. In her own words "I created a trap for myself where I took that toxic environment that I had in the corporate world and created my own version. I was doing things that I was really excited about, but the problem was that I did not put any of me into any of that time."
And so she stopped and assessed.  She made the difficult decisions that went against who she was, but knew would make her who she wanted to be. And now with a flourishing business, a wonderful home life and a smile that literally covers the whole of her face, isn't she glad that she did just that.
Today, working at the intersection of heart and head, Stephanie works with purpose-driven entrepreneurs to leverage their business and get their message out with power, ease and joy; so they can make a powerfully positive difference in the world, exponentially up-level their profits, shift their mindset towards possibility and take a no-excuses approach to boldly creating a highly successful and meaningful business built around who they are.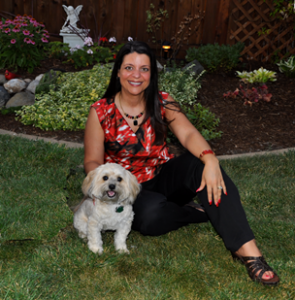 NOTABLE INTERVIEW QUOTATIONS:
A catalyst is something that helps something go faster.

No matter what your going through right now, there is something brighter in the future as long as you keep pressing forward and have a great support system.

There was something inside of me that said its not enough.

What I've found is that a daily practice of gratitude, keeps me in tune with whats truly important to me.

Read more for fun, Laugh more, walk outside in bear feet and just breathe.
LINKS:
Site: http://www.StephanieCalahan.com
Media Room/As Seen In: StephanieCalahan.com/media
Twitter: twitter.com/StephCalahan
Instagram: instagram.com/stephcalahan
G+: plus.google.com/+StephanieCalahan
Facebook: facebook.com/StephCalahan1
LinkedIN: linkedin.com/in/stephaniecalahan
Pinterest: pinterest.com/StephCalahan
YouTube: youtube.com/subscription_center?add_user=StephanieCalahan
EPISODE MUSIC:Show music introduction "Do It All For The Dream" provided with permission from Lovestruck Robot by Jace Magee. Please visit lovestruckrobot.com for more information or iTunes to download now.
Thank you for listening to Me Myself and I Radio Podcast with Anthony Hayes! Please subscribe on iTunes, leave a rating and review and tell a friend.
NOW AVAILABLE ON AMAZON!