Amy Bleuel founder of Project Semicolon was to be a future guest on Me Myself and I Radio Podcast; a day that sadly will never come. I reached out to Amy recently to talk about her journey and mission. After a few messages back and forth we couldn't nail down a date due to her busy schedule as of late.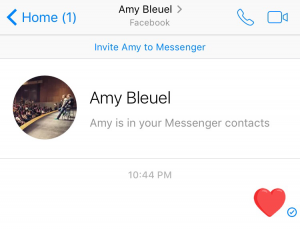 Amy Bleuel started Project Semicolon, a non profit to help people talk about mental illness. She started the project after she lost her father to suicide in order to give hope, awareness, and end the stigma. Amy struggled with depression for 20 years, a decade longer than Myself.
Tragically, Amy took her own life last month. Although Amy did not live long enough to share her story with our audience, I will continue to spread her message and write in her honor. She invited me to blog for Project Semicolon before her untimely passing. I was notified yesterday I was selected to be 1/100 bloggers for Project Semicolons new website. A website Amy and her team were hard at work on these past few months and the reason we were unable to link up.
My messages with Amy: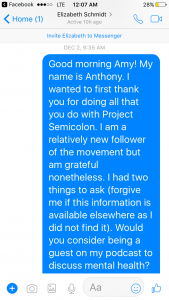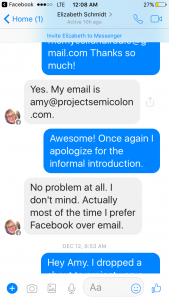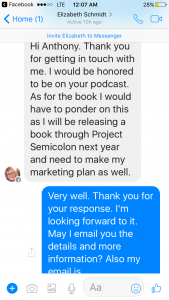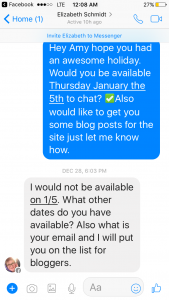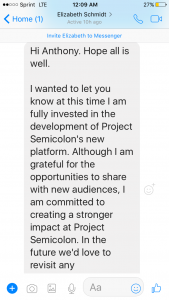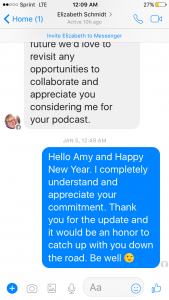 On the podcast, we talk about often obstacles and how they've shaped us to be who we've become. For me, major clinical depression has been one of those hurdles. Today, I am very aware of emotions and mental health. Are you? Read my story here.
In honor and memory of Amy Bleuel 1985-2017.
Your story isn't over ;
If you need help right now, please call the National Suicide Prevention Lifeline at 1-800-273-TALK (8255) or contact the Crisis Text Line by texting TALK to 741-741.
#SuicideAwareness
#ProjectSemicolon
#yourstoryisntover