Brand New Father Tanel Jäppinen
Tanel Jäppinen
On this episode of Me Myself and I Radio Anthony Hayes is joined by guest Tanel Jäppinen.

My co-pilot on today

s self discovery journey started blogging as a way to document his experience and help other first time parents be present  and involved in raising their kids. I had the honor of sharing my own story on his show Brand New Father Podcast. Be sure to check that out!
TJ has been able to gain insight and perspective into being the best brand new dad he can be through writing and interviewing others.
Listen as we explore the Me (Past) Myself (Present) and I (Future) Elements of Tanel Jäppinen; Blogger and Podcaster.
Tanel Jäppinen let's get into Me Myself and I shall we…?
LISTEN NOW!

DOWNLOAD NOW!
iTunes | Spreaker | SoundCloud | YouTube | Google Play | Stitcher | iHeartRadio

GUEST BIO:

32-year-old guy, a husband to a high school sweetheart and a dad to our 2-year-old daughter with another one due in May'17.
From Estonia, in Europe. I worked for 11 years for US-based company until I became a dad and soon discovered I can't handle being away from my family. Decided to stay home with my wife and daughter for at least a year. At the same time started a podcast for soon to be and new dads helping them navigate the perilous waters of new parenthood.
NOTABLE INTERVIEW QUOTATIONS:

Focus on the depth of the relationship versus the breath.

If we would treat our loved ones or our friends the same way sometimes we treat ourselves we really wouldn't have a whole lot of friends.

Sometimes we are too critical or ourselves and too tough on ourselves.

Nothing is as good or bad as it initially seems.
LINKS:

FB group: https://www.facebook.com/groups/bnfsupport/
Twitter.com/BrandNewFather
My Episode on Brand New Father Podcast!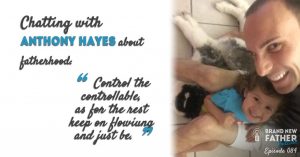 http://brandnewfather.com/anthony-hayes/
EPISODE MUSIC:

Show music introduction "Do It All For The Dream" provided with permission from Lovestruck Robot by Jace Magee. Please visit lovestruckrobot.com for more information or iTunes to download now.
Voiceover by: Spike Real The Big Voice http://cmo247.com/SpikeReal
Thank you for listening to Me Myself and I Radio Podcast with Anthony Hayes! Please subscribe on iTunes, leave a rating and review and tell a friend.
SPECIAL OFFER!

I'm so excited to bring you my first book The Science of Being Surviving; Depression which has become an Amazon Top 100 Seller in two categories.The Science of Being Surviving; Depression by: Anthony Hayes
ps. signed copies available only at memyselfandiradio.com/support